AIRCRAFT Interior industry leaders have teamed up to showcase their expertise and in depth knowledge within the supply chain at the Aircraft Interiors Expo in Hamburg in April 2017. Leading design company, tangerine, has joined forces with industry leaders; seat cover manufacturers, Bradfor Ltd, plastic injection moulding company, IPC Mouldings and the foremost magnesium manufacturer, Magnesium Elektron. The collaboration demonstrates what is possible when companies use their respective skills to work together.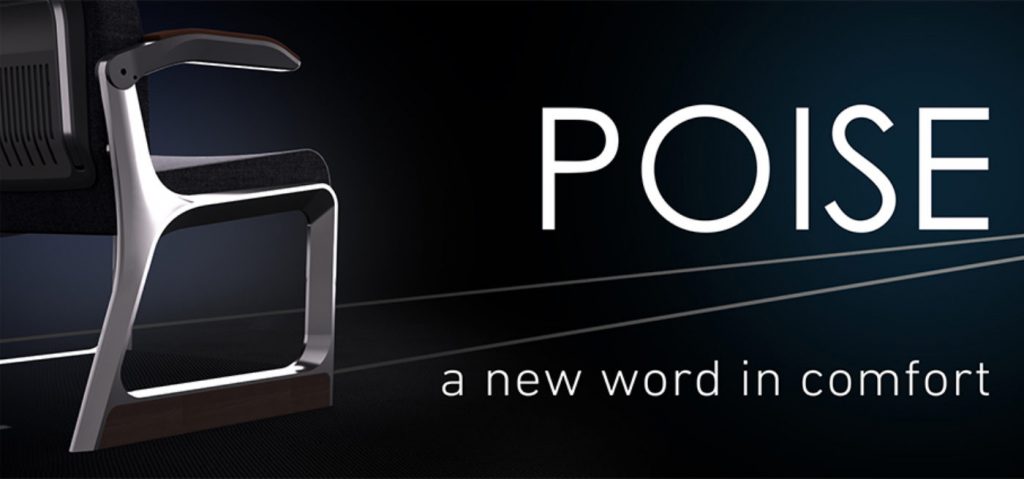 In eight short weeks the four companies worked in partnership to deliver a concept seat named POISE. The concept will demonstrate the value add of a ready made supply chain to their core customers, seat manufacturers.
Joanne Liddle, managing director, IPC Mouldings explains: "With POISE, we wanted to reflect not just the capabilities of each business, but we wanted to show that through collaboration and co-creation that there can be true innovation. Each partner has brought their own exceptional capability to this concept seat.

"We are able to illustrate what is possible, in a seemingly impossible time frame, when we work together and the value add it can bring to our customers. We have used our industry knowledge and technical expertise in the engineering of this seat to make the POISE concept a reality. This partnership approach with tangerine, Bradfor Ltd and Magnesium Elektron is supply chain excellence at its best within the aircraft interiors market."

Patricia Clements, managing director, Bradfor Ltd also commented: "Bradfor Ltd is delighted to have worked on the seat cover manufacture for the POISE concept project along with some of the aerospace industry leading businesses in the UK. We believe this seat concept clearly demonstrates each of our respective abilities. It represents not only a fantastic collaborative project, but the capabilities of some of the best aircraft interior talent there is and what can be achieved when we work together in eight short weeks from original concept to completion."

Dan Flashman, Creative Lead at tangerine, said: "POISE rethinks the structure of the economy class seat to enhance the passenger experience, creating extra legroom for every person, irrespective of where their seat is positioned relative to the seat track. Creating the seat design around delivering this small innovation will have a significant impact on the level of comfort enjoyed by the passenger. Other features such as extended headrest wings, magnetic meal tray, are only made possible by the close collaboration and buy-in from the key stakeholders."

Sarka Jeremic, product manager, Magnesium Elektron said: "We were pleased to be a part of this project. Magnesium is the lightest structural material. The latest revision to SAE standard AS8049, revision C, which removes the magnesium ban, was published, so there is now a clear certification route for seats containing Elektron®43 magnesium alloy.

"This is what the industry was waiting for as it enables the benefits of lighter materials with no detrimental impact on performance or safety and without the need for new production techniques. POISE is an excellent example of using new ideas and high tech materials to give the passenger a new feel of comfort."

The POISE concept seat will be displayed on the Northern Ireland Stand, organised by Invest Northern Ireland.

Bill Montgomery, Invest NI Director of Advanced Manufacturing & Engineering, said: "The interiors market is a niche area of the aerospace industry with valuable commerical opportunities for Northern Ireland's manufacturers. The Aircraft Interiors Expo offers a valuable platform to showcase Northern Ireland's expertise as the world's leading region in aircraft seating. This is an exciting collaboration for Bradfor Ltd and IPC Mouldings which has the potential to help leverage new international business. "

Staged annually in Hamburg, Aircraft Interiors Expo, the leading global event for the aircraft interiors industry, is a vibrant must attend business-to-business event presenting a diverse range of leading suppliers to Europe and International aircraft interiors professionals and airlines. The Expo takes place from the 4th to the 6th April, and the Invest NI stand can be found in Hall B2, stand 2U41.